For the seventh straight year, the top U.S. precious metals dealer has teamed up with a sound money policy group to help students pay for the ever-increasing costs of college.
Money Metals Exchange and the Sound Money Defense League are taking applications for the Sound Money Scholarship -- the first gold-backed scholarship of the modern era!
Since 2016, these organizations have set aside 100 ounces of physical gold (currently worth more than $170,000) to reward outstanding students who display a thorough understanding of economics, monetary policy, and sound money.
The Sound Money Scholarship is open to high school seniors, undergraduate, and graduate students with an interest in economics, specifically the free-market tradition. Students can find more information or apply here -- and they do not have to be economics majors to be eligible to receive one of the scholarship awards.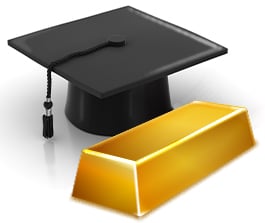 Money Metals Exchange and the Sound Money Defense League also announced this year's blue-ribbon panel of judges:
Eric Brakey served two terms in the Maine Senate (2014-2018), passing Constitutional Carry, Right to Try, and pro-market reforms. Eric ran for U.S. Senate in 2018 as the Maine Republican nominee and was nominated by legislative Republicans in 2020 for Maine Secretary of State. Eric has also worked with Young Americans for Liberty to elect liberty candidates to state legislatures and is now running to reclaim his former seat in the Maine Senate.
Keith Weiner is the founder, CEO, and Chairman of the Board of Monetary Metals & Company, an investment firm that is unlocking the productivity of gold through the creation of a gold-yield marketplace. Keith is an economist who is a leading authority in the areas of gold, money, and credit and has made important contributions to monetary theory. He is also a serial entrepreneur who specializes in businesses that solve hard problems.
Peter St. Onge is an economist at the Heritage Foundation, a fellow at the Mises Institute, and a contributor at Zerohedge. He holds a Ph.D. in economics from George Mason University, is a former professor at Taiwan's Feng Chia University, and before academia was a marketing executive at two Fortune 500 companies.
Tho Bishop is the Associate Editor for the Mises Institute and author of the animated series "What Has Government Done To Our Money?" He previously served as Deputy Communications Director for the House Financial Services Committee.
In prior years, the Sound Money Scholarship has received entries from students attending more than 150 different schools in more than 40 states, Puerto Rico, Washington D.C., six countries, and three continents.
The deadline to submit applications is October 31, 2022.
For more information, please visit moneymetals.com/scholarship or email [email protected].