Eagle, Idaho (June 13, 2023) – A major U.S. precious-metals dealer is teaming up with the preeminent sound money policy group to help students pay for the ever-increasing expenses associated with higher education.
Money Metals Exchange has again joined the Sound Money Defense League in offering the Sound Money Scholarship – the only known gold-backed scholarship of the modern era.
Beginning in 2016, these organizations have set aside 100 ounces of physical gold (currently worth more than $195,000) to reward outstanding students who display a thorough understanding of economics, monetary policy, and sound money.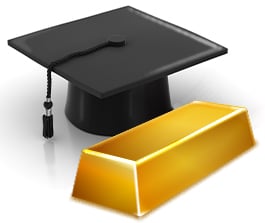 The Sound Money Scholarship is open to high school seniors, undergraduate, and graduate students with an interest in economics, specifically the free-market tradition.
Applicants are not required to be economics majors to be eligible to receive a scholarship, but they do need to be able to articulate cogent views in response to an essay prompt on a monetary topic.
"While inflation and extravagant federal budget deficits increasingly place our society at risk, it has never been more important to encourage the next generation of leaders to consider how best we can get America back on the path to sound money," said Stefan Gleason, president of Money Metals.
Money Metals and the Sound Money Defense League also announced this year's blue-ribbon panel of judges:
Thomas Hogan, Ph.D., is a Senior Fellow at the American Institute for Economic Research. He was formerly the Chief Economist for the U.S. Senate Committee on Banking, Housing, & Urban Affairs.

Peter St. Onge, Ph.D., is an economist at the Heritage Foundation, a Fellow at the Mises Institute, and a former MBA professor in Taiwan. He makes daily videos about economics and Freedom.

Judge Andrew Napolitano is a Former Fox News Analyst, a best-selling author and commentator, and the host of the "Judging Freedom" podcast.

Robert Wright, Ph.D., is a Senior Research Fellow at the American Institute for Economic Research. He is the co-author or co-editor of over two dozen major books, book series, and edited collections.
In prior years, the Sound Money Scholarship has received entries from students attending more than 150 different schools across 44 states, Puerto Rico, Washington D.C., six countries, and three continents.
The deadline to submit applications is October 31, 2023.
For more information, please visit moneymetals.com/scholarship or email [email protected].