Gold and silver have fallen slightly during this quiet June market as we head into both the end of the month and the quarter.
Gold is trading just over $1,900 this morning, and silver is trading near $22.50.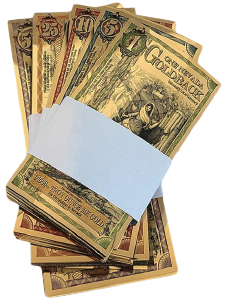 There is presently full availability on all common gold or silver coins, bars, and rounds – with premiums having also dropped to reasonable levels.
The U.S. stock market remains buoyant on optimism about an end to Fed rate hikes and a sense of relief that larger issues in the banking system have been averted.
However, a commercial real estate meltdown looms, triggered by high downtown vacancies in major cities. Rising defaults may well trigger major turmoil in the credit markets later this year.
Meanwhile, tomorrow is the last day to claim your free Goldback bonus – a special gift from Money Metals for ANY order of $200 or more.
You'll appreciate having this foldable, spendable form of fractional gold in your wallet - it's also a great conversation starter!