Investors are bracing for market volatility following the surprise attack on Israel by Hamas militants.
Crude oil futures shot up over the weekend while gold prices gained and global stock markets teetered ahead of U.S. markets opening on Monday.
Neither Israel nor the surrounding Palestinian-controlled territories are major oil producers. But the broader Middle East region is.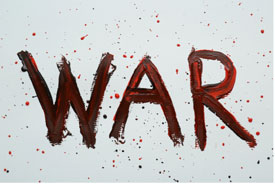 The risk is that Israel could become engulfed in a wider conflict with Muslim countries accused of financially supporting terrorists – namely Iran and Saudi Arabia. The United States, which backs Israel militarily, could also get drawn into a conflict in the Middle East.
Were major OPEC oil producers to cut exports, oil prices could zoom to $100-$150 per barrel, according to some analysts.
Meanwhile, the Federal Reserve suddenly finds itself in a tough spot.
On the one hand, the risk of a sharp rise in commodity prices combined with ramped up foreign aid and military spending means could add to inflation pressures – which would augur for more rate hikes.
On the other hand, the economy may become increasingly vulnerable. Central bankers also don't want to be seen as impeding any increased U.S. contribution to war efforts.
It's not clear whether the Fed will hike again this year... or whether its next move will be to cut rates. But interest-rate-futures markets are pricing in a high probability of rate cuts in 2024.
Monetary policy will ultimately be a bigger driver of precious metals prices than Israel's war. Geopolitical shocks can certainly cause markets to gyrate in the near term. But they tend not to drive major long-term trends.
Closer to home, the U.S. is also facing political turmoil in Congress following the ouster of House Speaker Kevin McCarthy by a small handful of fiscally conservative Republicans.
Rep. Jim Jordan is a leading candidate for the job to replace McCarthy, having been endorsed by former President Donald Trump.
His backers believe he would deliver bolder, more principled leadership than his predecessor who broke various agreements and failed to hold the line on spending – with the annual federal budget deficit now projected to top $2.2 trillion.
But Republicans hold a tiny minority in the House that is far from united on ideology and strategy. The next Speaker will have to not only try to get consensus from Republicans but also try to win concessions from a Democrat-controlled Senate and an executive branch controlled by Democrats.
The prospects for meaningful spending reforms that would reduce the deficit and put America on sounder fiscal footing are dim.
Members of Congress from both sides of the aisle are now reflexively calling for more aid to Israel. There are always cases for new spending that that find broad bipartisan support, but rarely do the two parties ever come together to find agreement on something to cut.
Political realities dictate that deficit spending will continue to pile up. That may help ensure that inflation does not come down.

About the Author:
Stefan Gleason is CEO of Money Metals Exchange, the company recently named "Best Overall Online Precious Metals Dealer" by Investopedia. A graduate of the University of Florida, Gleason is a seasoned business leader, investor, political strategist, and grassroots activist. Gleason has frequently appeared on national television networks such as CNN, FoxNews, and CNBC and in hundreds of publications such as the Wall Street Journal, TheStreet, and Seeking Alpha.