Sell or Trade Your Unwanted Sterling Silver Jewelry and Silverware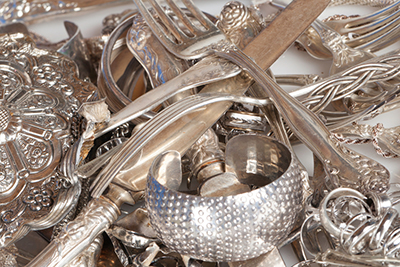 Money Metals Exchange is buying your unwanted sterling silver flatware, hollow ware and jewelry. We will help you convert your sterling into cash. Or, you can exchange it for investment-grade, uncirculated gold and silver coins, rounds and bars.
Sterling silver forks, knives, spoons and tea sets may have gone out of vogue, but they certainly have not lost their value. Money Metals Exchange will pay top dollar for any used, unwanted, broken, or damaged items made of sterling silver.
Converting old silverware into cash or silver bullion the easy way to divide up Grandma's old silver set and give everyone their fair share!
Protecting your wealth by holding physical silver is a great idea. However, not all silver is easily identifiable and highly liquid. WHAT you are holding when it comes to silver is important. You want investment-grade bullion products – coins, rounds, and bars clearly marked for content and purity, and therefore especially easy to trade and sell.
That is why we make it simple to swap your unwanted and hard-to-value sterling silver for a better, more liquid investment. We buy your sterling and apply the proceeds to the purchase of any of our beautiful products. Most people choose American Silver Eagles, but we have hundreds of items to choose from in gold, silver, platinum and palladium.
It is SUPER easy to sell or trade:
Ship your Sterling Silver via Postal Service to the address shown.
Upon receipt of your shipment, Money Metals will test items for purity and determine the exact silver content.
Your price is locked.
Money Metals will send immediate payment by check or electronic deposit - your choice. Or we will exchange the sterling for any of our beautiful, investment-grade bullion products

like American Silver Eagles from the U.S Mint -– the world's most popular gold or silver coin.
Please be careful to ship solid sterling silver only. We do not buy items that are silver plated and these items WILL NOT be returned to you. Clients bear the cost of shipping items to our facility. That expense is wasted if the items are not solid sterling silver.
Sterling silver is usually marked and there are many tutorials available online which teach how to identify it.
How to Identify Sterling Silver
How Much Does Sterling Silver Sell For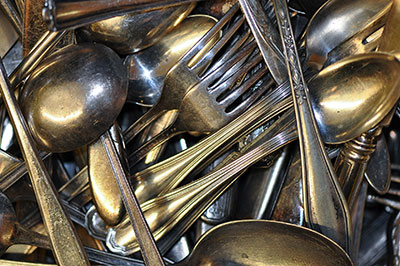 Solid Sterling Silver: 70% of Melt Value (Silver market price x .925 x actual silver weight)
Sterling Silver Knives: $4/ea
Weighted Sterling Silver (hollow ware such as Candlesticks, Candy Dishes etc): 50% of Melt Value

(Silver market price x .925 x actual silver weight). We will destroy this sort of item in order to remove the non-silver material used as weight in the item's base, then weigh the actual silver.

Sterling silver jewelry with glass and/or stones:

50% of Melt Value

(Silver market price x .925 x estimated silver weight). The estimated silver weight for this type of scrap will be 50% of the gross weight in most cases.
Important Note Regarding Sterling Silver Knives and Weighted Hollow Ware:
Sterling silver knives are typically made using three primary components. The blade (1) is almost always made of steel or stainless steel. The handle shell (2) is made from sterling silver. The handle filler (3) is generally comprised of cement, gypsum or lead. The blade and filler must be completely removed before the silver weight can be calculated. Most handle shells will contain between 1/2 - 2/3 troy ounces of actual sterling silver - far less than the gross weight of the complete knife. Money Metals Exchange offers a flat rate for sterling silver knives. Clients may choose to remove the blade and filler prior to shipping and receive approximately $2 more for the silver content.
Sterling silver hollow ware, such as a candlestick, often includes weight added to the stem or base. The material used to add weight may be cement, steel, gypsum or lead. It will be removed prior to calculating the silver weight and price. Clients may receive a higher price by removing the weight prior to shipment.
Money Metals Exchange Employs Destructive Testing:
Money Metals Exchange will use destructive testing on the sterling silver we purchase, because that is the only way to separate the actual silver from the worthless components. Items we receive may be smashed or subjected to acid testing. Items we determine to be silver plated or which do not have silver content will be discarded. We will not be able to return items which we do not purchase.