Owning gold means having a valuable asset to protect your wealth and purchasing power for years to come. Investors invest in or buy gold to help guard against inflation and financial turmoil. Because it is inversely correlated to many other asset classes, it is a necessary part of any balanced investment portfolio. It is more than a commodity… it is a better, more stable form of money that has been used for thousands of years. It's something everyone should own – from seasoned investors to regular people looking for financial security.
Why & How You Should Purchase Gold Bullion
Some of the most successful individuals and financial firms around the globe invest in gold. For centuries, it has been one of the most valued commodities. It provides value and benefits to savers and investors. The price of gold in all currencies has been rising dramatically over the last two decades. Because it is not correlated to many other assets – and because it is the ultimate form of money – it makes sense to diversify by holding at least 10 to 15 percent of your assets in precious metals. It is a viable hedge against inflation and often grows in value during tough economic periods. Because it is priced in volatile and unstable paper currencies, it appears to be a significant risk. However, its long-term trend is most definitely up when compared to all currencies!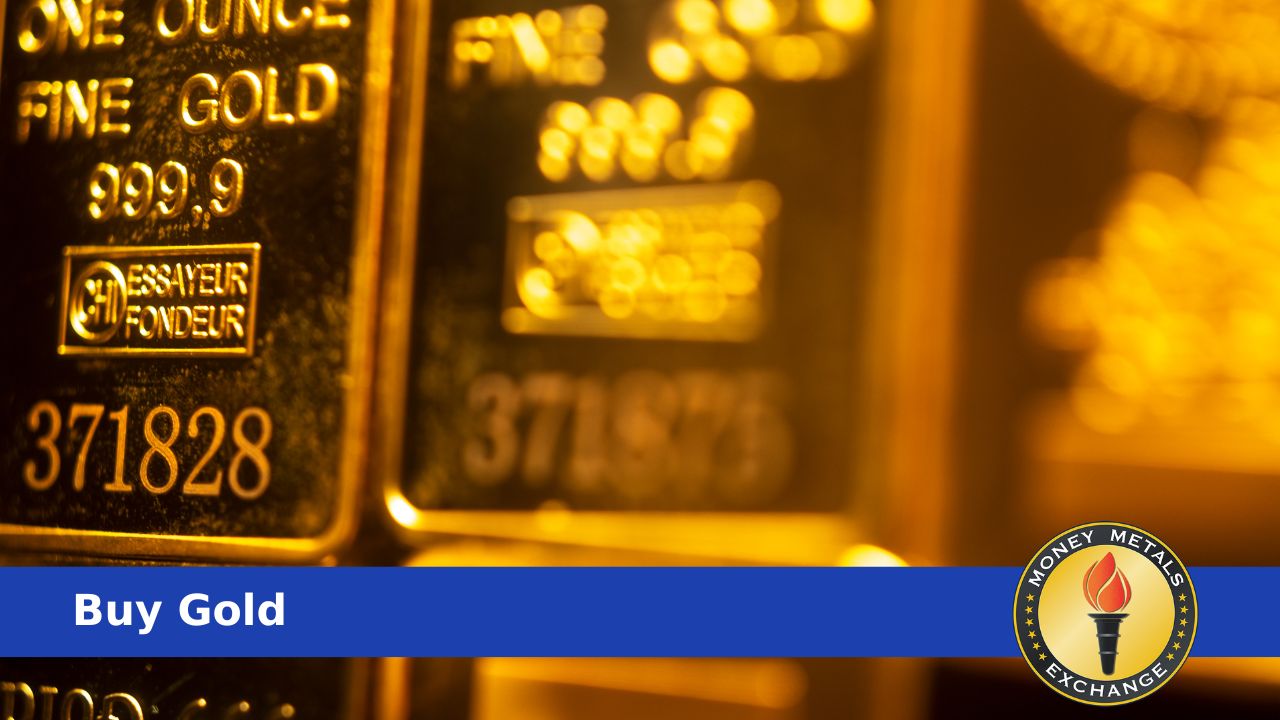 Gold and gold bullion come in various forms. An investor can buy bars, coins, and rounds in almost any size and quantity. Buyers typically get a discount for buying in large quantities or bulk. The yellow metal is produced by mints in various sizes, shapes, and weights. It can be purchased from a local merchant or you can order online from a reputable dealer like Money Metals Exchange. Most buyers opt for the security, convenience, and safety of buying from respected online dealers because they frequently have the best prices and usually are not required to charge sales taxes.
Exchange-traded products (ETPs) include exchange-traded funds (ETFs), closed-end funds (CEFs) and exchange-traded notes (ETNs). Such instruments give investors exposure to the current gold Price without storing physical bars. However, the complex structure of the aforementioned instruments as well as gold certificates, derivatives such as options and futures, all involve counterparty risks which should not be underestimated. People may also invest in mining companies, a highly speculative alternative to owning the physical metal itself.
The Value of Gold Coins for Investment
A gold coin is made predominantly of gold. Bullion coins are used for investment purposes. Other gold coins for sale are meant to be sold to collectors. Bullion coins are valued based on the gold content while collectible coins may have numismatic value. (However, be careful, as many items sold as rare or collectible are worth no more than their actual melt value.)
"The metal of kings has been used as currency for centuries."
Additionally, the metal of kings has been used as currency for centuries. The free market has selected it to be used as money for thousands of years, partly because it is transportable, with a high value-to-weight ratio. Its density makes it more difficult to counterfeit. It is also fungible in that all gold ounces are worth the same. And it's divisible, meaning that it does not lose its value just because it is broken into smaller increments. And it's durable – not corroding or tarnishing over the years. Historically, the first gold coins were made in Anatolia during the 6th century BC. Most modern bullion coins come in 1 ounce, ½ oz, ¼ oz, 1/10 oz, and even 1/20 oz sizes.
American Gold Eagle: The Official U.S. Coin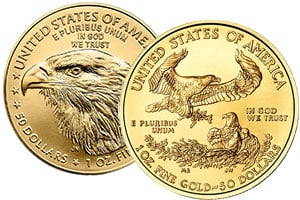 The official gold bullion coin of the United States is the American Gold Eagle. In 1986, the U.S. Mint first released eagles in accordance with the Gold Bullion Act of 1985. Often the weight is used to describe these coins because the term "eagle" was the U.S. designation for ten dollar gold coins distributed prior to 1933. Lady Liberty appears on the obverse of the coin. The reverse features an eagle carrying an olive branch. He is flying over a nest with a female eagle accompanied by hatchlings. The U.S. government guarantees the current eagles contain an accurate amount of gold weight in troy ounces or units. These are available in denominations of 1/10 oz, ¼ oz, ½ oz, and 1 oz gold coins. The face values are $5, $10, $25, and $50 USD. While eagles are legal tender, their intrinsic value is far greater as based on their troy weight and the current prices of gold.
The gold in these gold eagle bullion coins comes from American sources. It is alloyed with copper and silver for durability. Crown gold refers to 22 karat alloy, per the English standard, which has not been used in the U.S. since 1937. American eagles contain a gold fraction of .9167, which is authorized as 22 karats, with 3% silver and 5.33% copper. Un-circulated and proof versions, which are produced at the West Point Mint in New York, are available for coin collectors. The eagles minted from 1986 through 1991 feature the date in Roman numerals. Now Arabic numbers designate the date on these coins.
Canadian Gold Coins: Beautiful Works of Art
The Government of the Dominion of Canada issues the Canadian Gold Maple Leaf annually, which is produced by the Royal Canadian Mint. As legal tender, the face value is 50 Canadian dollars. The content is 24 karat with a fineness of .9999. The standard Canadian coin weighs 1 troy ounce. Denominations include 1 gram (50 cents), 1/20 oz ($1), 1/10 oz ($5), ¼ ounce ($10) and ½ oz ($20). The obverse features a profile of Queen Elizabeth II of Canada with the Canadian maple leaf on the reverse. As of 2015, the coin also has security features.
Specialized Maple Leaf coins are also available. One has a face value of $1 million. Another special issue contains .99999 gold weight, referred to as "Five Nines." Maples are soft and can show handling marks quite easily. A bimetallic maple leaf with a bullion finish was released from 1979 through 2005. These coins were packaged in a black leather case and the collection was meant to commemorate the Royal Canadian Mint.
Australian Gold Coins: Perth Mint Bullion
The Perth Mint produces a bullion coin called the Australian Gold Nugget. It is part of the Gold Nugget series introduced in 1986. From 1986 to 1989, the reverse of the coin depicted a variety of Australian gold nuggets. In 1989, the design started to feature kangaroos, the internationally recognized symbol of Australia. These coins are used as both legal tender and bullion coins.
Each year brings a new design of this 24 karat coin, which means the numismatic value of certain coins may actually exceed the value of the gold they contain. They are minted in denominations that include 1/20 oz, 1/10 oz, ¼ oz, 1 ounce, 2 ounce, 10 ounces and 1 kilogram. The Perth Mint even created a one tonne coin in 2011 with a face value of $1 million! This creation broke the record for the largest and most valuable gold coin ever. There are also Australian Gold Lunar bullion coins, with .9999 purity, that feature animals from the Chinese calendar rather than the traditional kangaroo.
Pre-1933 & Numismatic: Invest in Rare, Historic Coins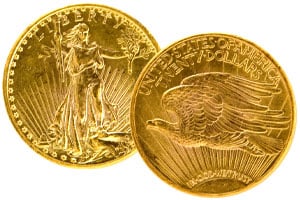 For many centuries, gold coins were the primary form of money. They started to fall into disuse by the early 20th century. In 1933, most countries switched from the gold standard to define the value of a dollar. This was because of the hoarding that occurred during the Great Depression. As a result, most countries stopped making gold coins to use as currency. The United States did not make a complete change until 1971 when it finally ended the draconian ban on investment ownership. For numismatic purposes, gold coins must not include alloys such as manganese brass. Some legal tender coins are not circulated, which means they are primarily for investment and collectors.
The value of numismatic coins is determined by features such as condition, age, rarity and the number of coins originally minted. An example of a coveted collector's coin is the Spur Royal. The grade of the coin also matters, which is a numerical score assigned based on a visual evaluation of the amount of wear. Basic grades are good, fine, and un-circulated. The Universal rarity scale and the Sheldon rarity scale are the scales used to determine how rare a coin might be.
Investors should be wary of dealers who encourage them to purchase pre 1933 us gold coins that are priced well above their actual melt value. Many of these coins are not the least bit rare, even if they have a spiffy plastic case with a grade and a hologram on it. Unless you have money to blow, do not pay more than a few percent over the melt value of a coin unless you are highly knowledgeable about rare coins. Collecting coins can be a fun hobby, but the field is filled with rip-off artists and inflated prices.
What is a Krugerrand?
First minted in 1967, the Krugerrand is a South African coin. The South African Mint produced it to help market gold from South Africa. It was also used as a form of legal tender and as gold bullion. By 1980, it accounted for 90 percent of the gold coin market around the world. Paul Kruger, the President of the South African Republic from 1883 to 1900, is featured on the obverse. The South African unit of currency, or "rand," is shown on the reverse of the coin.
Krugerands became politically controversial during the 1970s and 1980s because of the association with an apartheid government. As a result, production of the coins varied, with levels of production increasing since 1998. The Krugerrand weighs 1.0909 troy ounces and is made from 91.67 percent pure gold (22 karats). As a result, the coin has one troy ounce of gold with the remaining weight in copper. Three sizes have been available since 1980 including ½ oz, ¼ oz, and 1/10 oz. Proof Krugerands are also available for collectors. They differ from bullion coins because the proofs have 220 serrations on the coin's edge, rather than 160.
Gold Bars
A gold bar can also be referred to as bullion or an ingot. These bars are produced from metallic gold by a bar producer that meets the conditions of manufacture. Large bars are made by pouring molten metal into molds known as ingots. Smaller bars, like the 1 ounce gold bar, can be minted or stamped from rolled sheets. The standard gold bar is the Good Delivery bar, which is either 100 or 400 troy ounces. Central banks hold it as a reserve. The kilobar is 32.15 troy ounces. It is often used for investment and trading because it is more manageable.
Gold Bar Sizes
Gold bars are measured in troy ounces. The minimum purity required for producing a gold bar is 99.5 percent. They are stored in bullion vaults to maintain the status of Good Delivery bars. This also helps to ensure a maximum resale value. Gold bars for sale are commonly available in weights such as the kilo (32.15074656 troy ounces), 10 oz, 1 oz, 50 grams, 20 grams, 10 grams, five grams, and one gram.
Gold Rounds
While gold rounds may closely resemble coins, they have no currency value. On the other hand, they are generally priced closer to the spot price than an actual coin in the same size. A gold round comes in sizes that range from 0.05 troy ounces to 1 troy ounce. In most instances, no additional metals are added to rounds. Often, these rounds are not as collectible as actual gold coins.
Lady Liberty Gold Round
One of the most affordable ways to get gold is the Lady Liberty round, made of .9999 pure (24 karats) gold in one-tenth troy ounce. They are not legal tender and the goal is to provide the buyer with more gold for the money versus fractional coin bullion. Lady Liberty is featured on the obverse with the image of a descending bald eagle on the reverse.
Investing in Gold vs. Silver
Gold is the most popular of the investment precious metals, opposed to silver, platinum and palladium. However, when priced in dollars, it can appear volatile, although not usually as much as silver. From 2005 to 2011, both gold and silver increased dramatically in value, even more rapidly than the dollar's purchasing power fell. In addition, its historic role as money, silver is essential in many industries, means there is always a need for it. Conversely, gold has limited industrial use and – other than its role as a core investment asset – it is associated with luxury purchases, such as jewelry.
The value of gold per ounce dramatically exceeds the value of silver. Just look at the 1 oz silver bar value to get a better idea and understanding of each metals value in the market. And silver is currently way undervalued versus gold on a historical basis. Because of its affordable price, silver is accessible to more investors on every level. However, gold is often preferred as "go to" asset during periods of global financial turmoil. Owning gold and silver bullion as financial insurance is an important part of any prudent financial plan.
Gold Bullion Mints
The most basic definition of a mint is an industrial facility that manufactures rounds, bars, or coins. Gold bullion mints produce coins that are used for both currency and investment purposes. It is believed the first mint was established in the 7th century BC in Lydia. The mint coined gold and silver. Leading bullion mints worldwide include the United States Mint, the Royal Canadian Mint, and the Perth Mint in Australia.
Gold Updates
Gold prices vary each day. Investors may check MoneyMetals.com to see the live global price of precious metals at any given time. As a general matter, the global metals market is open around the clock on Monday through Friday. You can reference price charts which display both historic and live data in various currencies such as U.S. dollars, euros, British pounds, Australian dollars, Canadian dollars, and others. Live prices can change in just seconds. It is important to check prices in real time before buying or selling bullion.
How and Where to Store Your Gold
When people buy physical gold, they can store it themselves, have someone store it for them or do a combination of both. Some people keep it in a home safe, storage boxes, or in coin capsules at home. Others store it in a safe deposit box at the bank or other secure location. Safe deposit boxes at the bank are affordable but may offer limited access, based on the hours of the financial institution. The bank does not insure the contents of the box, which means separate insurance should be purchased.
The size of bullion is also a factor. Large bars can be stored in an insured bullion vault or a depository. This is a wise choice for investors with substantial holdings. Holding your metals in a depository may provide greater liquidity because it can generally be sold 24 hours a day, at least 5 days a week, anywhere in the world. Always inquire if a bullion vault is insured and the amount of insurance coverage provided. It is also possible to establish accounts for gold storage. It can also be delivered to a tax-sheltered account, such as an IRA.
How to Sell Your Gold
Selling back to Money Metals Exchange is super easy. You can lock in prices on this website or over the phone. Successful sellers continually watch trends and prices to choose advantageous times to sell. Gold can be sold quickly at local pawn shops, but sellers are likely to take a lower price than what the bullion is actually worth. Jewelry and coin shops buy gold, but many of them do not offer top dollar like Money Metals Exchange does. It can also be sold in real-time online. The prices are locked in immediately, making it a great option. Plus, it is transferred in a safer way than bringing it around town to various shops, depending on where it is stored.
Get a firm price from a trusted buyer before agreeing to sell to ensure you get the best price for your gold, no matter how the market turns. Avoid listening to friends, co-workers or a sketchy telemarketers offering reduced prices for buyers and inflated ones for sellers. If it sounds too good to be true, it probably is.
Invest in Gold Right Now!
Gold is a timeless investment to protect your wealth. A time capsule from any century is sure to include gold coins or bullion. Discover the security and pride in ownership for yourself. Pool your resources and make an important decision about your financial future. Talk to a knowledgeable professional at Money Metals Exchange by calling 1-800-800-1865 today to learn how to buy gold bullion for greater financial security. We take pride in offering outstanding service, great pricing, and fast delivery times to everyone – from novice buyers to sophisticated investors.

About the Author:
Stefan Gleason is President of Money Metals Exchange, the company recently named "Best Overall Online Precious Metals Dealer" by Investopedia. A graduate of the University of Florida, Gleason is a seasoned business leader, investor, political strategist, and grassroots activist. Gleason has frequently appeared on national television networks such as CNN, FoxNews, and CNBC and in hundreds of publications such as the Wall Street Journal, TheStreet, and Seeking Alpha.