You may have heard that bullion, whether it be gold, silver, or other precious metals, is a worthwhile investment if you want to protect your assets. But what is bullion, and why is it valuable?
What is Bullion?
Bullion comes in the form of bars, coins, and ingots from a variety of precious metals, including gold and silver. No matter what form of bullion you buy or whether you get it from Money Metals Exchange, it is always at least 99.5% pure.
Popular Products: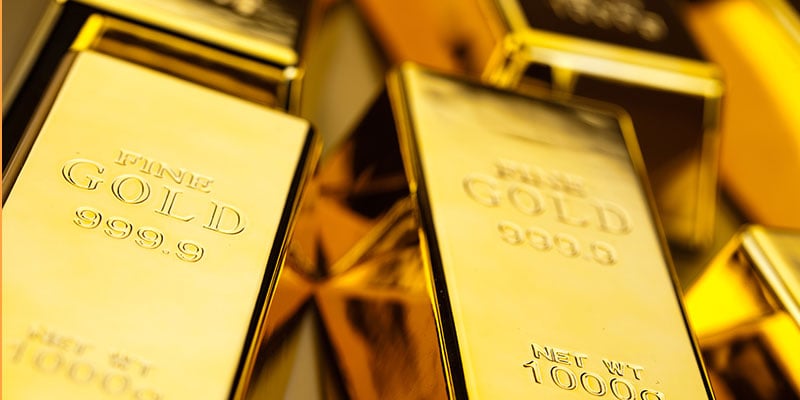 To determine the purity of bullion, you need to know its density and mass. Fire assay is the most common method to assess purity. However, not all bullion only contains one type of metal. There are two types of bullion: parted and unparted.
Parted bullion is what most people think of when they hear the term "bullion." It's a single, pure metal resulting from a heat treatment that separates it from other materials. Unparted bullion is still a pure form of metal, but the metals involved all exist in the same bar or round.
The type of bullion you invest in depends on varying factors like the market and economy, as well as your investment budget. Many investors feel that, in general, precious metals are a worthy investment for the future.
Bullion as an Investment
When you're considering bullion as an investment, it's crucial to understand the factors that contribute to the value of each type of precious metal. While gold bullion may be touted as the ultimate option, that may not be the case. Perhaps you can't afford it, or after you do research, you find that another metal suits your needs better.
Many investors consider bullion a safeguard against virtual money. By owning physical gold or other precious metals, you give yourself a guaranteed source of wealth that you can't get with cryptocurrency or even a savings account. There's always a market for precious metals, which means investors are continually buying and selling on the market.
When investing in precious metals like gold and silver, note the spot price at any given time. The spot price of precious metal changes not only from day to day but from minute to minute. Prices vary depending on the bullion you buy. For example, gold bullion prices historically have always been higher than silver, but both fluctuate often.
Before you invest in a specific type of bullion, consider the value beyond the spot price. What is the coin's melt value? What other costs are associated with your investment (storage, for instance)? Where will you store your bullion?
Bullion investments give you plenty of options, from rounds to bars. Coins and rounds are usually cheaper and easier to store than bars, which means you can keep them in your home, even if you have a lot of them. The same can't be said for bars.
Whenever you invest in bullion, make sure you're buying from a reputable broker like Money Metals Exchange. If a company offers "buy now" sales or gimmicks related to purchasing bullion, avoid them. Always consult with a financial adviser before making any significant investment in precious metals.
Bullion Coins & Rounds
Coins and rounds are the most popular way to invest in precious metals like gold and silver. Because of their smaller size, they are easy to store in your home, whether in a safe or portfolio. With lower prices, many investors find this option an attractive way to invest.
Bullion coins can offer an extra level of value compared to bars. They not only have value based on the metals they are made with, but their design can add collectible value. Popular designs, like Canadian Maple Leafs, carry more value than other options for the design on their face.
Some coins also carry value related to their age and rarity along with their mint. Silver coins are among the oldest currency in existence. You may even be able to purchase silver coins as junk silver, which is valued below the spot price of silver and gives you a variety of silver coins.
Rounds differ from bullion coins in that they don't have any collectible or face value despite that they also have printed designs on their faces. Rounds have a low premium over spot prices, making them more accessible—if potentially less valuable—than coins.
Coins are also easier to trade than bars or rounds. Rounds can't be used as legal tender anywhere, whereas some coins are still in circulation. Order volumes affect coin prices as well, as the more popular a design is, the more people will order it, and the higher its collectible value rises.
Bullion Bars
Bullion bars are a completely different type of investment than bullion coins. The spot price might be the same, but when it comes to order volumes, bullion bars often underperform compared to coins, whether you're investing in gold, silver, or other precious metals.
Bars can make it easy to diversify your investments in precious metals like gold and silver, though. In fact, gold bars are one of the most popular precious metal investments on the market. Because you don't have collectible or face value attached to gold bullion bars, you can purchase more at lower prices—perfect for metals that sell at a higher price.
Bullion bars are privately minted and easy to store in a facility, and because of their simple metal value, they are easy to trade and sell. Plus, if you want a high volume of precious metal assets, bars are the way to go. Gold bars are much easier to invest in than gold coins for this reason.
For example, one gold coin and one gold bar may cost the same amount, but you're getting more gold with the bar. If the collectible or face value of the coin goes down, the same can't be said for the gold bar, as its value on the bullion market lies in the metal of the bar itself, not what's printed on it.
The Bullion Market
Whether you're buying and trading gold, silver, or other precious metals, you should understand how the bullion market works before stepping into it. While spot prices apply universally, they aren't the only important aspect to consider when entering the bullion market.
Different markets exist worldwide, such as the London Trading Market, that have platforms where you can buy and sell bullion in the form of bars, ingots, coins, and rounds. Different markets have different rules for trading, which is why many people turn to the London Trading Market as the primary bullion market. It offers 24-hour trading and customer service and has different trading options.
You should also know what options you have when trading gold and silver. Outside of the bullion market, you can use exchange-traded funds (ETFs), which involve trading similar to stocks or mutual funds. The one you choose depends in part on the flexibility you want for your investment.
Major cities for bullion market trading include London, Zurich, Tokyo, and New York City, but London is the primary market worldwide. They set the standard for other markets, making them the most reliable source to look to for market information.
Where to Buy Bullion
When you're looking for a place to buy bullion, make sure you're purchasing from a reputable source like Money Metals Exchange. We offer superior customer service, and our privacy policy means your investment and personal information are protected and secure.
We offer the best prices for gold and silver that you'll find on the market. We'll ship your bullion to you, but we also have a secure facility that will allow you to keep your investment safe. We've even been voted Best in the USA as Bullion Dealer of the Year.
While you can buy bullion on the markets that we talked about previously, buying from us is a more personal experience. You can contact us directly for information using our email address, online contact form, or by phone. We're happy to help you understand what it means to buy bullion from a dealer like us instead of through a major market online.
At Money Metals Exchange, we sell bars, ingots, rounds, and coins. Whether you're looking for a rare coin or gold bars to store in an insured facility, we have what you need. Browse our collection and understand why we're one of the most respected dealers in the USA.
As a reputable bullion dealer, we take pride in our secure facility. From gold to silver and all the precious metals in between, we have what you need.
Feel free to contact us with any questions you may have. Our customer service department is always ready to help. Take the first step towards a more secure financial future, invest in bullion today from Money Metal Exchange.