Platinum Rallies on Mining Strife; Gold/Silver Firm Up
The often overlooked precious metals – platinum and palladium – grabbed the headlines and enter the week with some positive price momentum after deadly union unrest in South Africa halted mine production.
Platinum gained $75.00 (+5.3%) for the week, finishing at $1,479/oz – its highest weekly close in two months. Its sister metal palladium added $25 (+4.3%) to close at $611/oz.
Gold and silver, meanwhile, continue to base out in quiet summer trading. The money metals both finished fractionally lower last week. Gold gave up $4 (-0.3%) to settle at $1,617/oz, its second consecutive weekly close above $1,600. Silver was essentially unchanged, losing 5 cents (-0.2%) to close at $28.12/oz.
Platinum Gains on Heels of Violent Strike that Shuts Down Mine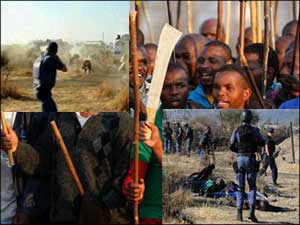 The platinum group metals surged late last week in response to escalating altercations between rival striking unions and police that led to at least 44 deaths near Lonmin's Marikana mine outside of Johannesburg, South Africa. Lonmin PLC's London-listed shares declined by 8% in the last two trading days of the week and have lost 15% since the union-related violence began several days ago, pointing up the fact that what's detrimental for mining can be bullish for bullion.
Physical precious metals and precious metals mining stocks are two entirely separate asset classes. Mining shares are financial assets with all attendant business and political risks(including those of bankruptcy and nationalization), while physical bullion is wealth itself and has eternal value. Rising bullion prices are generally good for miners, but ownership of shares of a mining company or an ETF is not a proxy for ownership of bullion. There is no substitute for the real thing!
More than two-thirds of the world's platinum is mined in South Africa. Rising social and political instability deteriorating infrastructure and an ongoing "brain drain" threaten to drive away investment and curtail mining output from the country. The Marxist wing of the ruling African National Congress is pushing for "strategic nationalization" of the country's mines.
Platinum's discount to gold narrowed last week, but platinum remains a long way from the healthy premium to gold at which it normally sells. Though more price-volatile and somewhat less liquid than gold, platinum bullion coins and bars offer more upside than gold at these levels without the risks of mining stocks.
Events that Could Move Precious Metals This Week
Possible market-moving action this week includes meetings among German, French, Greek, and other European leaders as they look to hash out agreements on rescue plans. It will be " a week of intensive shuttle diplomacy to help defuse the continent's debt crisis," as Bloomberg reported.
Also this week, the Federal Open Market Committee will release its minutes from its most recent meeting. Any surprise language could rattle the markets.
Otherwise, investors will be looking forward to Ben Bernanke's speech on August 31st at the annual Jackson Hole conference. There, Bernanke may hint at the future direction of Fed policies. What everyone wants to know, of course, is whether new rounds of Quantitative Easing are forthcoming.
Until then, the gold and silver markets could continue to trade quietly. They have been basing out for several weeks and appear to be nearing the end of this long consolidation phase, after which they'll be ready to pop. September is normally a strong month for the metals, so the likeliest directional move ahead is to the upside.
---