Money Metals Releases Free Precious Metals Newsletter, Winter 2014. Download It Now!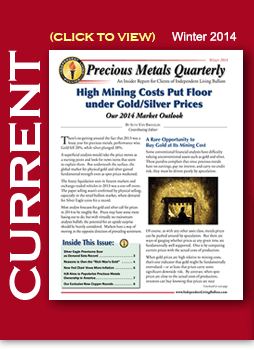 Every three months, Money Metals Exchange publishes its complimentary newsletter, Precious Metals Quarterly.
Following a dramatic year in the gold and silver markets – and with so much uncertainty in Washington and the American economy – every owner (or potential owner) of precious metals should download our free Winter 2014 issue right away.
Here is an overview of what's inside:
High Mining Costs Put Floor under Gold/Silver Prices
Silver Eagle Premiums Soar as Demand Sets Record
Reasons to Own the "Rich Man's Gold"s
New Fed Chair Vows More Inflations
Money MetalsAims to Popularize Precious Metals Ownership in America
So download the PDF of this fantastic free newsletter right now – and even pass it around to your friends! It's just another free benefit for those who have signed up forMoney Metals Exchange's email list.
---