Most gold owners are familiar with worries of forced government gold confiscation – that one day black-ops shock teams will toss homes to find that stash of coins and bars.
When did the US Government Confiscate Gold?
The sole historical source for the modern fear of "confiscation" was President Franklin Roosevelt's 1933 Executive Order 6102 telling America to cough up its gold amid The Great Depression.
But closely reading FDR's infamous order offers a sobering perspective that doesn't fit the ever-evolving folklore. This reality might calm some confiscation fears...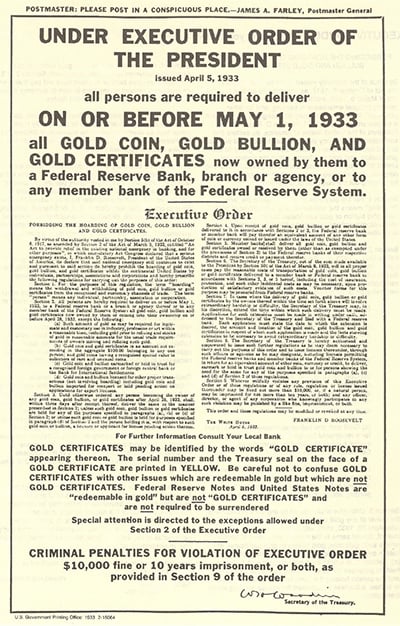 FDR's executive order was far from an outright grand theft "confiscation." It was a paid-for expropriation. Surrendering a $20 double-eagle to the bank got you a $20 fiat paper note. While aiming to steal the economic power of gold, FDR left its nominal value in citizens' pockets. (Yes, he did devalue the dollar soon thereafter.)
FDR did not outlaw the ownership of gold. He outlawed the "hoarding" of gold. The distinction is not minor. FDR intended to destroy gold as an everyday currency and aimed for larger concentrations of gold meant for everyday commerce. He had no intention, and no means, of putting millions of Americans in jail.
FDR left a lot of gold on the table, allowing each citizen to personally keep $100 in gold coins. That meant anywhere from 100 individual one-dollar gold pieces to 5 twenty-dollar double-eagles. The population exceeded 120 million in 1933, meaning technically hundreds of millions of bullion gold coins (more than existed) were exempted. Roosevelt wasn't worried. He knew depression-ravaged Americans needed every penny they could find, and gold was suddenly not spendable.
He added exemptions for jeweler's gold stocks, gold marked for export, and rare, collectible coins, but without specifically defining which coins qualified as rare. (The collectible coin exemption has since been over-hyped by unscrupulous marketers to get investors to pay huge markups for supposedly "rare" coins.)
Enforcement against "hoarding" was largely impossible and largely ignored. The late economist Milton Friedman found that one year after FDR's order, 78% of America's gold was still in private hands. The evidence for that is the abundance of "classic" pre-1933 US Gold coins surviving today. Those coins had been quickly shipped to Europe and South America for safekeeping – or were buried in tin cans on the family farm. Our great-grandparents knew more about history and economics than FDR and his socialist hand puppets. Our forefathers simply told FDR to shove it.
Prosecution for hoarding gold was microscopically rare. The case cited most often was that of a New York attorney who publicly challenged FDR to take his gold. He was tried for the crime of hoarding gold – and acquitted!
Over the Years, the Confiscation Perception Became the Reality
While FDR could not confiscate gold's place in history as the ultimate store of wealth, the damage was done. Fear of confiscation was encouraged to evolve, thanks to an educational system void of economics teaching, egged on by lazy and ignorant media.
Despite any nuances in FDR's order, the government war on America's gold and American economic liberty was quite successful. Today, most Americans don't see gold as money and have no working knowledge of gold as currency or wealth. The resulting popular beliefs about "confiscation" left Americans believing gold would forever be marked with a bull's eye.
Just because you own some gold and silver doesn't make you the Lone Ranger. Every government believes it can confiscate anything it wants from any citizen at any time without payment.
In 2007, GATA's Chris Powell reported his correspondence with George Bush's Treasury Department revealed the government could claim "not just gold and silver but any damn thing the government feels like confiscating."
A recent example of confiscation in California has the government claiming control of water supplies and water delivery systems, tearing up long-standing legal contracts amid the drought now four years running.
Fail to pay your property tax, and the government will confiscate your home without reimbursing you a dime. Put your cash in the bank, and it faces confiscation through planned bail-ins.
Since 2008, Congress has openly kicked around the notion of confiscating IRAs and 401(k)s. Less recognized but equally devastating, the confiscation of wealth through sinister, planned inflation has stolen more buying power from all Americans over the past century than the value of all the gold supposedly still in Fort Knox.
The buying power of your paper money and your private retirement funds, along with everything you own, from your firearms down to your water well, seem to be far more important targets for an inept and corrupt government than your gold.
Proudly boasting of a verifiable stack of government gold is not important to a corrupt Washington. What's more important is having the unlimited ability to print trillions in suffocating paper and digital debt.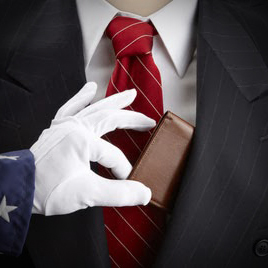 Personally, I'm not worried about "confiscation." FDR's 1933 actions tell me little about the threats we face today.
What worries me more is how readily the rewrites of history are perpetuated.
The government has belittled and demeaned gold as insignificant for the past 80 years. FDR aimed to destroy gold as an everyday currency. Washington today does not have that problem. Yet.
The day Washington orders confiscation is the day it broadcasts to the world, including to America's sworn and powerful enemies, it has lost all control of its disastrous economic policies.
That same day would mark widespread chaos throughout international markets and foreign capitals. On that day, for the very reasons you now own gold, you are going to need that gold. My guess is, based on the historical record, not many will give it up.
About the Author:
A great communicator who connected with his readers, the late Guy Christopher lived on the Gulf Coast. Writing for MoneyMetals.com as a retired investigative journalist published author, and former stockbroker, Christopher previously taught college as an adjunct professor and was a veteran of the 101st Airborne in Vietnam.