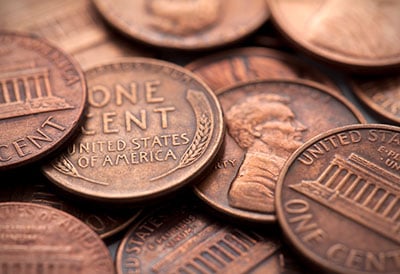 Traders are bidding up the U.S. dollar and dumping metals as they become more convinced that the Federal Reserve will raise interest rates at its next meeting. Janet Yellen and company have been talking about raising rates for the better part of a year, though. All talk and no action so far.
Will they finally hike or keep crying wolf? We'll find out when the Fed meets on December 15-16.
In the meantime, the long-dollar trade is getting crowded. Bullish bets on the U.S. dollar in the futures markets have more than tripled since last month, according to Scotiabank. The U.S. Dollar Index now trades right near the 100 level, matching its high point in March. The buck may encounter some technical resistance in this area. If it pushes through, momentum could accelerate to the upside.
On a fundamental basis, dollar strength is little more than the flip side to weakness in the euro and other major currencies. For Eurozone officials to weaken the euro, they have to do it against its main counterpart, the U.S. dollar.
Obama's Treasury Secretary Admits the Cent Isn't Worth a Penny Anymore
Recent weakness in precious metals prices is being confirmed by weakness in base metals prices. Last week, zinc prices fell to new lows for the year, while copper fell to its lowest level since 2009.
What Year Are Copper Pennies?
Copper has historically played a minor role in the monetary system. Its primary use has been in pennies. Until 1982, the penny consisted of 95% copper. Today, the penny is 97.5% zinc (with just 2.5% copper for plating). The U.S. Mint switched to zinc because it is a cheaper metal. After decades of inflation eroding the value of a cent, it no longer made economic sense to mint pennies out of copper.
Even though copper prices are now more than 50% off their all-time highs, a copper penny minted before 1982 still has a metal value that exceeds its face value by about 40%. And even though pennies are now made out of a cheaper zinc substitute, it still costs the Mint more to produce a penny than it is worth.
Government officials have called on the Mint to find a cheaper substitute for the zinc used in pennies (and for the nickel and copper used in nickels). But in an inflationary monetary system, the only viable long-term solution is to scrap the penny entirely. Treasury Secretary Jack Lew is considering that option.
Lew said in a talk last Monday, "Obviously the value of a penny has gotten smaller and smaller as time has gone on. Even with low inflation, it continues to diminish."
Of course, Lew made no mention of the central role the Treasury and the Federal Reserve have played in this problem.
So yes, the penny has already become functionally obsolete. Its days as a circulating coin will be numbered sooner or later – sooner if base metals prices start climbing markedly higher.
Pre-1982 copper pennies, on the other hand, stand to become more valuable over time. They can potentially be used as barter instruments or as a means of betting on higher copper prices.
At some point, currently circulating nickels will be worth hoarding for their copper and nickel content. But not now. Given current metals prices, the melt value of a nickel is less than its 5-cent face value.
If you want to own circulated coins whose melt value exceeds their face value, then consider pre-1982 pennies and 90% silver pre-1965 dimes, quarters, and half-dollars. You can also obtain some historic gold coins, such as $10 and $20 U.S. Liberty coins, that currently sell at Money Metals Exchange at bullion-like prices.
The U.S. Mint halted production of its iconic gold coins in 1933 after Franklin Roosevelt infamously outlawed owning more than 5 ounces of gold bullion. Wise people ignored the official assurances that the new dollars would carry the same stable value and hid the gold coins away. Today these coins are worth more than 50 times their face value in gold content.

About the Author:
Stefan Gleason is CEO of Money Metals Exchange, the company recently named "Best Overall Online Precious Metals Dealer" by Investopedia. A graduate of the University of Florida, Gleason is a seasoned business leader, investor, political strategist, and grassroots activist. Gleason has frequently appeared on national television networks such as CNN, FoxNews, and CNBC and in hundreds of publications such as the Wall Street Journal, TheStreet, and Seeking Alpha.