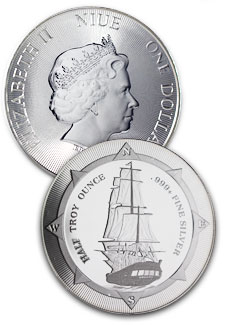 In October, silver investors enthusiastically embraced the debut of 1-oz. New Zealand Bounty legal tender silver coin – a Money Metals Exchange exclusive product and one that carries the lowest premium legal tender silver offered anywhere in the world.
Now due to popular demand, Money Metals Exchange has gone a step further in our "mutiny" against profiteers in the silver business!
Today we are announcing the release of the half-ounce New Zealand Bounty legal tender silver coin at unbeatable low premiums.
Throw High Silver Premiums Overboard! Low-Premium Legal Tender Coins Are on Sale Now
Fractional silver has long been popular with investors seeking to combine the historic status of silver as real money with the ability to barter and make exchanges in smaller increments.
Demand for half-ounce silver bullion coins is significant, yet few legal tender mints (including the U.S. Mint) have ever offered such a coin. Those that do tend to command higher premiums due to the relative unavailability of fractional legal tender silver.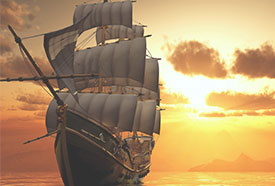 Until now!
Money Metals is thrilled to announce today that we've added NZ Bounty coins in the popular half-ounce size; this is a Money Metals North American exclusive due to our unique relationship with the New Zealand Mint.
Like the full-ounce version, the half-ouncer features an image of the historic HMS Bounty, a merchant vessel taken over by its crew in a mutiny in 1789 and later burned. The obverse features the iconic profile of Queen Elizabeth II, making this coin instantly recognizable as the official legal tender of the British Empire.
Money Metals' premium on this radiant new silver offering is as low as a mere $1.39 per coin over spot – substantial savings off the premium of any legal tender fractional silver coins we've ever offered.
We anticipate brisk sales from this new offering, so please order immediately to avoid delays and disappointment.
Ordering is quick and easy at our secure site, www.moneymetals.com, or call one of our precious metals specialists at 1-800-800-1865. Don't wait and risk having this charter offering of low-premium half-ounce legal tender silver sell out; place your order now.