Richard Nixon was president the last time commodities were this cheap relative to stocks. This sort of extreme relative low in the Goldman Sachs Commodities Index, which includes precious metals, has been a reliable indicator of bottoms in the past. After years of lagging stocks, the time may be coming for hard assets to shine.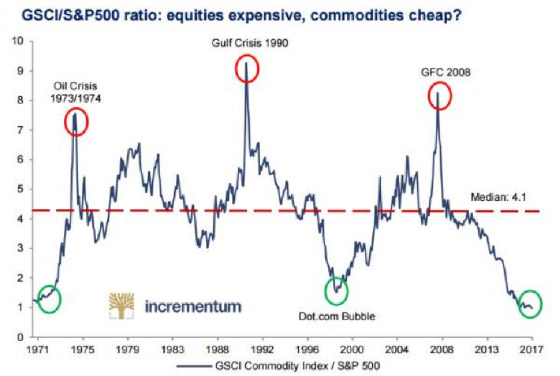 We think a major correction in stock prices is among the more likely catalysts for higher gold and silver prices
However, given the increasing certainty that the Federal Reserve and other central banks are actively managing asset prices in a variety of markets, it is even tougher than usual to guess about timing.
It is easy to make a fundamental case for a correction in share prices. Predicting exactly when the central planners managing our markets will lose control is a lot harder.

About the Author:
Clint Siegner is a Director at Money Metals Exchange, a precious metals dealer recently named "Best in the USA" by an independent global ratings group. A graduate of Linfield College in Oregon, Siegner puts his experience in business management along with his passion for personal liberty, limited government, and honest money into the development of Money Metals' brand and reach. This includes writing extensively on the bullion markets and their intersection with policy and world affairs.