1 oz Gold American Eagle Coin, TYPE 1 Design (Dates Our Choice)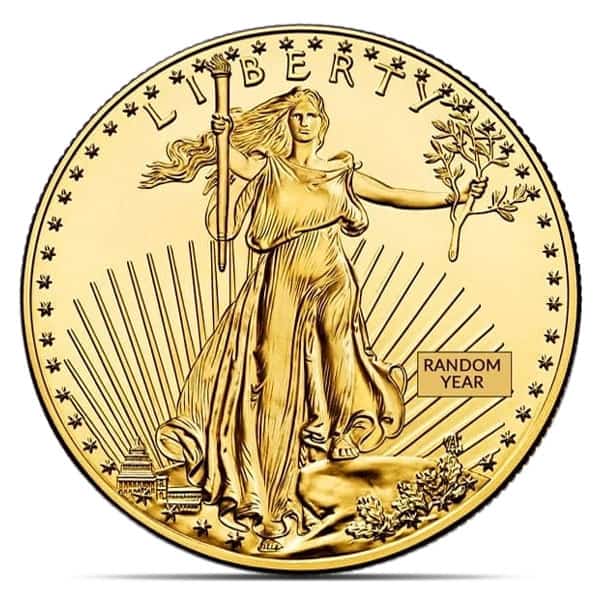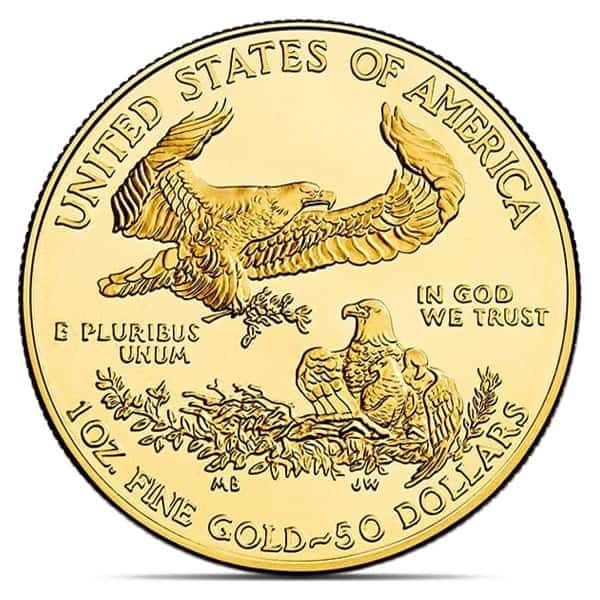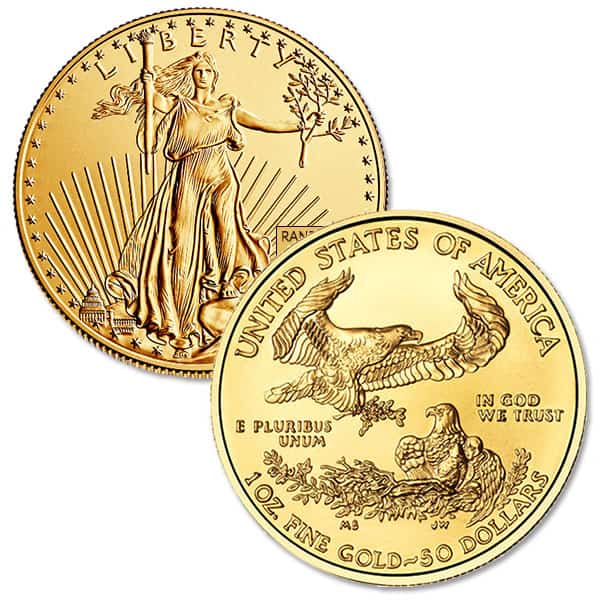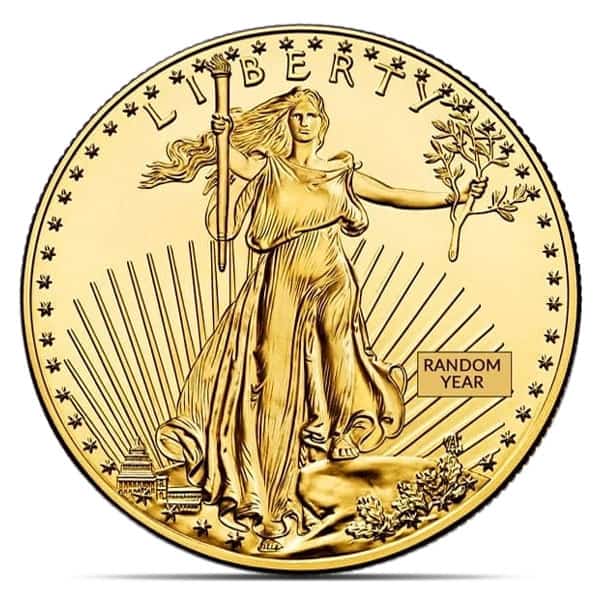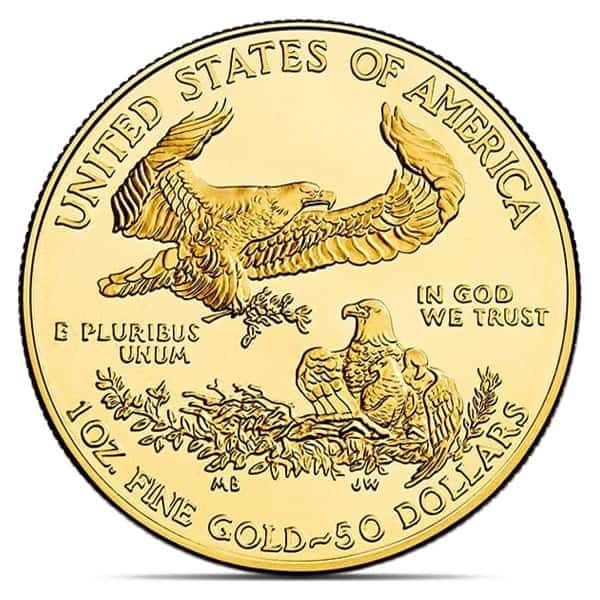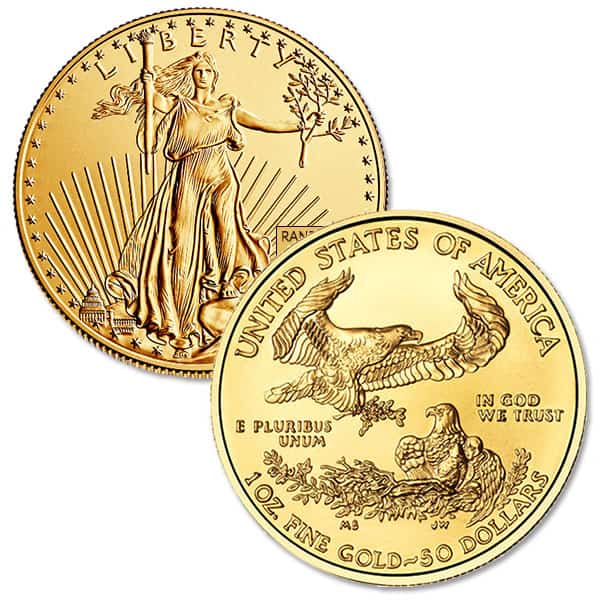 $2,148.05
(as low as $116.00 over spot)
Quantity
Premium/Oz
Total Price Each
1 - 9
$130.00
$2,162.05
10 - 19
$123.00
$2,155.05
20 - 60
$116.00
$2,148.05
61+
Call for discount
Full Tube Qty = 20



Free Shipping
On All $199+ Orders
Sell to Us Price: $2,040.05 each
Buy the American Eagle 1 oz Gold Coin - Type 1 Random Dates (1986 - 2021)
Money Metals Exchange is pleased to make available the highly popular American Eagle gold coin series in the 1 oz gold bullion size, produced by the U.S. Mint since 1986. The Type 1 design was minted from 1986 to mid-year 2021. Each Golden Eagle Value is based on its gold content, but it also carries a legal tender value of $50 US (1 oz), $25 US (1/2 oz), $10 US (1/4 oz), and $5 US (1/10 oz). The Golden Eagle's weight, content, and purity are guaranteed by the United States Government. While Gold American Eagle coins contain either a full 1 ounce of gold (or 1/2 oz, 1/4 oz, or 1/10 oz depending on the specific size), by weight it is 91.67% gold (22 karat), 3% silver, and 5.33% copper.
Here is more about the product, specifications, and purchase price:
1 Oz Gold Coin Specifications
Introduced in 1986 by the United States Mint, the American Eagle gold coin series, minted in four different sizes:
1 oz (1 troy ounce, a fifty-dollar face-value coin)
1/2 oz (1/2 troy ounce, a twenty-five-dollar face-value coin)
¼ oz (1/4 troy ounce, a ten-dollar face-value coin)
1/10 oz (1/10 troy, a five-dollar face-value coin)
The front (obverse) of the gold bullion coin looks similar to the 1907-1933 twenty-dollar gold coin and its depiction of a robed lady Liberty, designed by Augustus Saint-Gaudens.
The back (reverse) of the coin is adorned by a family of eagles, and the words "United States of America," "In God We Trust," "E Pluribus Unum," the face value, and the gold weight of the coin.
History of the 1 Oz American Gold Eagle
American gold coins were originally authorized by the Coinage Act of 1792 and served as coins of the realm until 1933. They were removed from circulation by Franklin Roosevelt's controversial executive order which lasted until 1972.
President Nixon rescinded Roosevelt's executive order which banned private ownership of gold bullion at the same time as he slammed shut the "gold window". His action removed the last vestige of gold backing from the US dollars – dollars could no longer be redeemed by any party for gold. But at least Americans could once again build personal reserves.
Prior to 1933, US gold coins for sale circulated with denominations of $20, $10, $5 and $2.50. The modern American Eagle 1oz gold coin carries a denomination of $50 – a tiny fraction of its actual value based on metal content. Officials do not want gold coins to re-enter circulation or to be spent, in competition with fiat (paper) dollars. Rather the coins are traded by dealers and investors, priced at just above the current melt-value of 1 troy ounce of gold.
The one-ounce American Gold Eagle coins first produced in 1986 after passage of the Gold Bullion Act of 1985 passed. The act authorized the US Mint to produce American Eagle gold coins, but only from gold mined inside the US.
Today, investors can get American Eagle coins in silver, gold, platinum or palladium.
American Gold Eagle 1 ounce gold coins have gold weight and purity that is guaranteed by the federal government.
From 1986 through 1991, the US Mint used Roman Numerals to date the coins. From 1992 on, the coins feature traditional Arabic numerals.
1 Oz Gold Eagle Composition
American Eagle gold coins are produced in a 22-karat alloy, called "crown gold," which was originally formulated in 1526 by King Henry VIII. The coins contain 91.67 percent gold with the remaining balance in copper and silver. Each coin is marked by weight, which is the actual amount of gold weight in troy ounces. Coins marked 1-oz contain a full troy ounce of gold content with some additional weight attributable to the silver and copper alloy metals. That means the gross weight of these coins is slightly greater than 1 troy ounce.
You can also check out the American Eagle as a 1 oz pure silver coin if you would prefer the design, but at a lower cost. US Mint Silver Eagles are also offered in smaller sizes, if you are interested in fractional coins. So no matter what you're looking to invest in, we can help you find it.
Product Details for 1 oz. American Gold Eagle Coin:
Mint Facility: United States Mint
Denomination: 50 dollars US
Date: 1986 through the present
Type and Quality: Brilliant Uncirculated
Purity: 91.67 percent gold, 5.33 percent copper, and 3 percent silver
Gold Weight: 1 troy ounce
Diameter: 1.287 inches or 32.70 millimeters
Edge: Reeded
Design – Obverse (front): Standing Liberty
Design – Reverse (rear): Profile of the American Bald Eagle
The packaging of the American Eagle 1 oz gold coin will vary depending on the number of coins purchased.
Quantities of 9 or fewer are shipped well protected in plastic coin flips. Ten or more coins will be placed in original mint tubes which can contain up to 20 coins; whereas, 500 gold coins are shipped in the original red "monster" boxes.
1 Oz American Eagle Gold Coin Value
The $50 face value of the 1-ounce coin is marked on the reverse side, but that should not be confused with the coin's value or price. The actual value of the coin is based upon its gold content and will fluctuate with the market price of gold in the commodities markets.
Though the one-ounce American Gold Eagle have a face value and are legal tender, their purpose is different. 1 ounce gold coins are not intended to be spent with a merchant, at least not unless the merchant is willing to recognize the coin's actual value. Instead, they are an investment and a hedge against the perpetual devaluation of the US dollar.
American Eagle gold coins are very popular and the US Mint's guarantee of weight adds some value. For this reason, these coins often carry a slight premium – perhaps 1 - 2% - versus comparable gold coins from elsewhere in the world.
How We Determine the Market Price of the 1 oz. American Gold Eagle Coin
The market value of the one-ounce coin is directly related to its value on the commodity exchanges, such as the COMEX. Like shares in a publicly traded company, gold futures contracts are bought and sold on a continuous basis during the trading day. The price, sometimes referred to as the "spot price", will fluctuate from moment to moment.
Money Metals Exchange reports and displays the live pricing for gold at the top of our website.
Finding the total price of a 1 ounce American Gold Eagle coin requires taking the "spot price" and adding a "premium" to it. Premiums vary, depending on the item and quantity. They are determined by the production cost of the coin and by the profit margin included by the dealer, but mostly by supply and demand. Like most products in any market, buying in quantity generally means lower cost.
For people who want to buy gold coins regularly, lower premiums are available for those who join our monthly membership plan.
1 Oz Golden Eagle Coins for Retirement
More and more investors are holding US mint gold coins, like the American Eagles inside of retirement accounts, in addition to more traditional stocks and bonds. 1 oz gold Eagles can be held inside "self-directed" Individual Retirement Accounts (IRA's). They are the only exception to the IRS requirement that physical precious metals be at least .999 pure to be eligible for inclusion.
Investors should beware of precious metals dealers who market "proof" or collectible versions of American Eagles for IRAs. IRS rules prevent most numismatic coins in retirement accounts, but a loophole allows rare coin dealers to offer "proof" Eagles. These are typically very overpriced and will not perform nearly as well as regular bullion coins.
Buy 1 Oz Gold American Eagle Coins for Investment
Gold American Eagles are the most popular and liquid bullion coin in the world. They are also among the most beautiful. The modest additional premium that investors pay to purchase these coins will almost certainly be returned to them when it is time to sell them. In other words, the beauty, trust and confidence offered by both gold and silver bullion American Eagles make them a cut above, whether you are buying or selling. When you're ready to buy American Gold Eagle coins, Money Metals is here to help!
Product Specifications
| | |
| --- | --- |
| Mint Facility: | U.S. Mint |
| Denomination: | $50.00 USD |
| Date: | 1986 to 2021 |
| Quality / Type: | Bullion, Uncirculated |
| Purity: | 91.67% gold (22 karat), 3% silver, 5.33% copper |
| Gold Weight: | 1 oz. - 1 troy ounce (1.0909 gross) |
| Diameter: | 1 oz. - 1.287 inches (32.70 mm) |
| Edge: | Reeded |
| Obverse Design: | Standing Liberty |
| Reverse Design: | Nesting Eagles |
Sell to Us
We are buying this item back daily, and we pay you promptly!
Our current buy pricing is $2,040.05 each and we will buy up to 100 ounces at this price. Simply call us on any weekday to lock pricing at 1-800-800-1865.
Learn more about the process for selling to us here.
Shipping Info
We take great pride in the way your order is packaged and delivered.
You can expect:
Prompt Shipping – We ship orders shortly after your payment has been cleared – generally within 2 business days.
Fully Insured – We fully insure all shipments with Lloyd's of London.
Privacy – Your package will have no external markings that provide any clue as to the contents. Because we insure packages with Lloyd's of London, we do not declare a value or insure with the carrier.
Accountability for Package Contents – Your order will be packed under video surveillance, weighed and double-checked prior to shipping to ensure you receive exactly what you ordered.
Professional Packaging – Your order will be packaged securely and professionally.
Tracking – We will provide you with the carrier's tracking number for your shipment so you can monitor its progress and plan for delivery.
Signature Confirmation – Delivery carriers are instructed to request a signature upon delivery.
Cost to Ship & Insure
(absent periodic special offers for free or discounted shipping)
| Insured Value | Cost |
| --- | --- |
| Up to $198.99 | $7.97 |
| Insured Value | Cost |
| --- | --- |
| $199.00 + | FREE |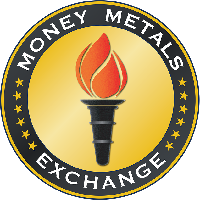 Sign in to Your Account
Please Sign In or Register to leave a review
Brenda B.

July 11th, 2023

This was by far the easiest, quickest, cheapest transaction for precious metals! Customer service wa

James P.

January 2nd, 2023

I would love to buy the 1 oz of gold but my finances our not good at this time

Stephen L.

September 6th, 2021

Purchased a gold ounce for my Granddaughter's first birthday. As always, service was prompt, product was beautiful and the communication extraordinary. Been buying here since 2914.

Kathleen k.

August 3rd, 2021

OUTSTANDING!

Not disappointed in quality

Coins were received in great unblemished condition.