Money Metals is the top-ranked national dealer that both buys and sells precious metals. If you sell your gold to a local dealer near you, you will generally get paid less for your metals as compared to doing your transaction with Money Metals. Learn more about selling to us here.
---
Purchasing (or Selling) Gold and Silver in Chicago, IL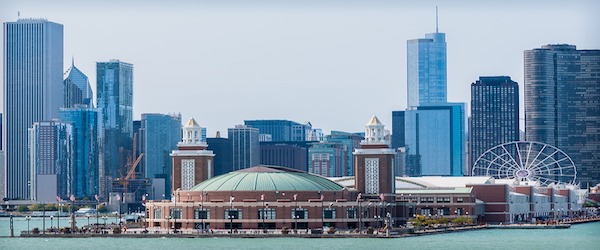 About Chicago, IL
The city of Chicago is the most populous city in the state of Illinois and the third most populous city in the United States. Chicago is home to O'Hare International Airport, the second busiest airport in the country. Chicago is one of the most important centers in the world for finance, culture, entertainment, and commerce. Known as the Windy City, Chicago is located on the shore of Lake Michigan.
Local Gold and Silver in Chicago, IL
Be sure to check out these coin and bullion shops next time you're in Chicago, IL:
Chicago Coin Company, Inc.
This company was established in 1955 and ran successfully as Daru Coin & Stamp at this location for forty years when the original owners decided to retire. In 1995, William A. Burd purchased Daru Coin & Stamp and one year later, changed the name to Chicago Coin Company, Inc.
Since their humble beginning, they have grown into a large wholesale and retail gold buyer and bullion dealer with a conveniently located store. We are just south of I-55 and only two miles west of Midway Airport.
Their staff has a combined experience of over 70 years. They perform confidential appraisals for banks, trusts, estates and insurance companies, as well as free verbal appraisals for individuals.
6455 W Archer Ave
Chicago, IL 60638
Archie's Coins
In 1955 Archie's opened at 5516 W. Devon Ave., on Chicago's far northwest side and word spread quickly that this was the place for the best prices when buying and selling antiques, rare coins and other valuables. With over 50 years experience, Archie's professional staff provides fair and accurate appraisals, and has come to earn a reputation among jewelers, antique dealers and collectors from throughout Northeast Illinois and beyond for making top dollar deals.
5516 W Devon Ave
Chicago, IL 60646
A-1 Jewelry & Coin Buyers
A-1 Jewelry & Coin Buyers is a gold buyer that has been located on Irving Park Road in Chicago since 1984. A-1 Jewelry & Coin Buyers is a family owned and operated business consisting of knowledgeable and trusted experts.
They specialize in buying, selling and appraising all types of modern and antique jewelry, gold, silver, platinum, diamonds, watches, coins, currency, flatware and more. They also offer free appraisals and the personalized attention you need to carefully evaluate each and every transaction.
1827 W Irving Park Rd
Chicago, IL 60613
Chicago Gold Gallery
When you are looking for a reliable, time tested experienced jewelry buyer in Chicago and have gold, silver, platinum and other valuable items to sell, the Chicago Gold Gallery is the premier place to visit to sell your jewelry for cash and highest prices paid since 1980. Always buying all forms of gold, silver, platinum and palladium, coins, silverware, old gold, jewelry, watches – they will separate the scrap gold items from the reusable better and re-sellable items and pay extra for them.
1236 W Devon Ave
Chicago, IL 60660
A & R Estate Buyers
A & R Estate Buyers is owned and operated by an expert Graduate Gemologist G.I.A. who has been in the estate buying business since 1981. They are committed to integrity, honesty, and serving their customers in every way. They buy diamonds, scrap gold, fine jewelry and watches, collectible coins, silverware and other rarities. They offer free evaluations of your treasures. No deal is too small to evaluate.
1445 W Belmont Ave
Chicago, IL 60657
Kedzie Koins Inc.
With over 40 years' experience, Kedzie Koin is considered one of the finest coin dealers in Chicago. They travel to all of the major coin shows in the country to bring you a huge selection of Morgan Silver Dollars and U.S. Type Coins. They also offer gold and silver coins, world coins, ancient coins, paper money, and bullion. Be sure to explore their extensive collection of coins in all grades, types and conditions. Their rotating selection of rare collectible coins and currency means that there is always something new and exciting to discover in their store.
5909 S Kedzie Ave
Chicago, IL 60629
Gold Star Jewelry & Coin Co.
Gold Star Jewelry & Coin Co has been a family owned and operated business since 1918. The Lowis family are fourth generation owners, and between them they have more than 75 years of knowledge and experience in the buy and sell business. They are dedicated to fair and ethical business practices, honesty and the best customer service. Doing business with them is like doing business with a family member you trust.
7048 N Clark St
Chicago, IL 60626
Be sure to check out these coin shops next time you're in Chicago. Please contact us if you know of other coin shops that would like to be listed.