Money Metals is the top-ranked national dealer that both buys and sells precious metals. If you sell your gold to a local dealer near you, you will generally get paid less for your metals as compared to doing your transaction with Money Metals. Learn more about selling to us here.
---
Purchasing (or Selling) Gold and Silver in Fort Worth, TX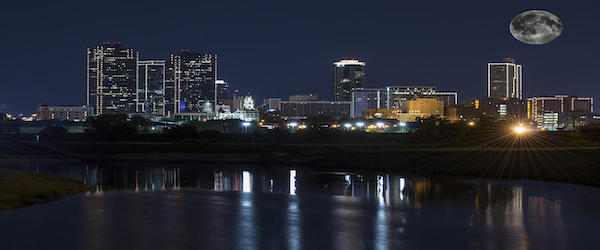 About Fort Worth, TX
Fort Worth, TX was established in 1849 as an Army outpost and it looks over the Trinity River. Fort Worth, home to famous museums and other cultural landmarks and events, is the fifth most populous city in Texas with close to one million residents.
Local Gold and Silver in Fort Worth, TX
Be sure to check out these coin and bullion shops next time you're in Fort Worth, TX:
Fort Worth Coin Company, Inc.
Fort Worth Coin Company, Inc. in Fort Worth,Texas, is the area's premier precious metal dealers and rare coin dealers. They offer their customers dedicated and friendly service. Their company is happy to help you whether you're looking to sell your old collection, add to your existing collection, or start a new collection. Customers should become involved in the gold and silver trade and elevate their financial standing with help from Fort Worth Coin Company, Inc. They buy and sell gold and silver in all forms, from gold and silver American Eagle coins to Canadian Maple Leaf coins.
1114 Norwood St
Fort Worth, TX 76107
Cowtown Gold and Silver
Cowtown Gold And Silver has very competitive prices and a nice store in which to shop. Whether you are selling old jewelry or purchasing a large amount of gold bullion, Cowtown Gold And Silver can handle your transaction quickly and discreetly. They have over 50 combined years of experience to serve you better. Let their friendly staff prove why we are the best in the Metroplex.
4935 S Hulen St
Fort Worth, TX 76132
Alliance Gold and Silver Exchange
Alliance Gold and Silver Exchange is one of Fort Worth's largest buyers of Jewelry, Gold, Silver, Sterling Flatware, Platinum, Coins, Bullion, and Larger Diamonds. They will buy your unwanted jewelry whether they are scrap, broken, or high quality pieces. Alliance's integrity, experience, and customer service has made them one of the top rated gold & silver buyers in the DFW metroplex.
2901 Western Center Blvd #120
Fort Worth, TX 76131
Arlington Coins Inc
Arlington Coins Inc is a one stop shop for all your coin needs. Offering collectible coins, supplies, appraisal services, and more, Arlington Coins is a must visit in Fort Worth.
2230 W Park Row Dr C
Pantego, TX 76013
The Exchange Gold Store
The Exchange Gold Store, with locations in Denton and Keller/Watauga, is a direct broker for the U.S. Gold Refineries. This allows them to give the most possible cash for your gold. The Exchange Gold Store buys old gold, broken jewelry, coins, silver, dental gold, platinum, and diamonds. They offer a local place for the North Texas communities to sell their unwanted jewelry for top dollar. Get the most cash for your gold, silver, broken jewelry, and more!
8004 Denton Hwy #148
Watauga, TX 76148
Ft Worth Gold & Silver
Ft. Worth Gold & Silver Exchange is your one stop shop to buy, sell and trade jewelry, watches and coins in Ft. Worth, TX. They will buy everything from broken jewelry and coins to industrial scraps, and are always offer the highest prices. With more than 20 years of gold and silver experience, Ft Worth Gold & Silver can promise you the best deals when buying, selling, or exchanging your goods.
1222 Jacksboro Hwy
Fort Worth, TX 76114
7th St Gold and Silver
7th St Gold and Silver is a honest and fair shop in Fort Worth focused on meeting your gold and silver needs. They offer the best prices and have a knowledgeable staff.
5800 Camp Bowie Blvd #116
Fort Worth, TX 76107
Burleson Gold & Silver
Do you love finding rare antiques that nobody else has? Burleson Gold & Silver specializes in antique jewelry, estate jewelry, gold, silver, and platinum. Discover hard-to-find items among their collections from various eras. They offer expert appraisals. You can always expect affordable prices that are fair and honest. You will receive personal attention and friendly service each and every time. Be sure to visit their convenient location today.
1351 SW Wilshire Blvd #101
Burleson, TX 76028
If you know of other coin and bullion shops in Fort Worth, TX that would like to be listed here, please contact us.