Money Metals is the top-ranked national dealer that both buys and sells precious metals. If you sell your gold to a local dealer near you, you will generally get paid less for your metals as compared to doing your transaction with Money Metals. Learn more about selling to us here.
---
Purchasing (or Selling) Gold and Silver in Miami, FL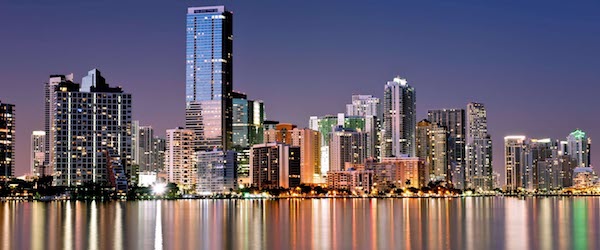 About Miami, FL
Miami is located in south Florida and is a major nucleus in the world of banking, finance, culture, tourism, and more. The Miami metropolitan area is home to more than five million people and was incorporated in 1896. The Port of Miami is the busiest port in the world in both cruise lines and passenger traffic. Boasting the largest concentration of international financial institutions in the world, Miami is rich with culture, entertainment, and tourist attractions.
Local Gold and Silver in Miami, FL
Be sure to check out these coin and bullion shops next time you're in Miami, FL:
Miami Gold Coins
Miami Gold Coins is your independent dealer for gold, silver, precious metals, currency, and more. Miami Gold Coins offers the best prices and a well stocked inventory. Their friendly and knowledgeable staff make sure that you get the most for your money every time.
13789 S Dixie Hwy
Miami, FL 33176
Apollo Rare Coins
Apollo Rare Coins possesses extensive knowledge of both U.S. and foreign coins. They are well-versed in coins dated from the times of Alexander the Great to today. Whether you are looking to buy or sell ancient or rare coins, Apollo Rare Coins can provide you with information to get the best value. They are available Monday through Friday for appraisal, purchases and sales.
2073 NE 163rd St
North Miami Beach, FL 33162
Miami Mint
Miami Mint is one-stop dealer for all things buying and selling gold, silver, jewelry, coins, and more. Miami Mint's staff is honest and will make sure that you're getting the best value every time you come into their store. They offer the best prices and the best service.
8275 SW 124th St
Miami, FL 33156
Park Avenue Numismatics
Serving collectors since 1988, Park Avenue Numismatics offers high end rarities for the collector and investor. Their knowledgeable staff attends every major show and auction. They provide exceptional want list services as well as auction representation. Let Park Avenue Numismatics assist you in acquiring the best coins available on the market today or assist you in selling your coin collection or accumulation. Whether a seasoned collector or first time buyer we stand ready to assist you in any way they can. Browse some of the finest rarities available in the rare coin market and call them today! You'll enjoy their exceptional customer service and our commitment to all clients to provide the Best Two-way Market for Buying and Selling Rare Coins and Bullion.
2742 Biscayne Blvd
Miami, FL 33137
Alvarez Coin and Stamp
Alvarez Coin and Stamp is your home for silver, coins, stamps, and more. Alvarez Coin and Stamp is a staple of the Miami coin community and will continue to serve their customers with trustworthy and straight forward service.
48 E Flagler St
Miami, FL 33131
World Jewelry Gold Watch Silver Buyer
At their convenient location on North Miami Avenue, you can get CASH for: old scrap gold, broken jewelry, unwanted jewelry, diamonds, earrings, bracelets, cluster rings, glass ring, platinum, sterling silver, swiss watches, estate jewelry, antiques, and more. They strive to provide their customers with the utmost buying experience. They try their best to make your shopping as simple and enjoyable as possible.
36 N Miami Ave
Miami, FL 33128
Goldfather of Miami | Gold Buyers of Miami
Goldfather of Miami offers the best prices in Miami! Nick has been in the gold business for years and always offers the best service, the most knowledge, and the most value for your dollar. Come in today!
1621 NE 163rd St
North Miami Beach, FL 33162
Gables Coin & Stamp Shop
Gables Coin & Stamp Shop was founded by Mr John Albright in Coral in the city of Coral Gables (FL) in 1966. Since then he has proudly been giving professional and friendly service to all the customers and visitors in South Florida.
82 Miracle Mile
Coral Gables, FL 33134
Be sure to check out these coin shops next time you're in Miami. Please contact us if you know of other coin shops that would like to be listed.