Money Metals is the top-ranked national dealer that both buys and sells precious metals. If you sell your gold to a local dealer near you, you will generally get paid less for your metals as compared to doing your transaction with Money Metals. Learn more about selling to us here.
---
Purchasing (or Selling) Gold and Silver in Orlando, FL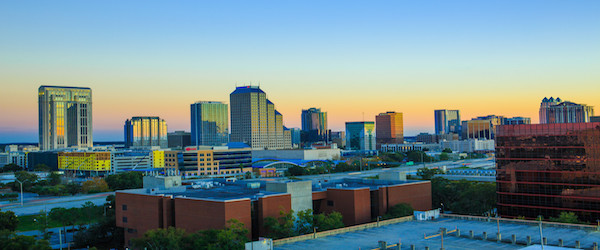 About Orlando, FL
Orlando is a city in Central Florida with a metropolis population of about two and a half million residents. Orlando is the fourth biggest city in Florida. Lake Eola's iconic fountain is not the only popular attraction in Orlando. The city is one of the world's most popular cities for tourism. The Orlando International Airport is one of the busiest in the country and Orlando is home to the famous Walt Disney World.
Local Gold and Silver in Orlando, FL
Be sure to check out these coin and bullion shops next time you're in Orlando, FL:
Coins & Currency of Orlando
Coins and Currency of Orlando is a local coin shop committed to providing you with top notch service. They approach every client with a focus on integrity. They treat you right!
Coins & Currency of Orlando's staff has over fifty years combined experience in numismatics. They love what they do and want to share that passion with you
2603 Curry Ford Rd
Orlando, FL 32806
Eur-Am Coins Inc
Eur-Am Coins is an Orlando coin shop that buys and sells gold and silver bullion, currency, and jewelry. They also offer appraisal services.
2725 N Orange Blossom Trail
Orlando, FL 32804
A Gold 2 Cash Exchange
A Gold 2 Cash Exchange is best known for buying gold and paying out more than their competition for gold and silver in Orlando, Florida
They are precious metal experts and gold buyers that specialize in the purchase of used and unwanted gold, silver and platinum jewelry, dental gold, gold coins, gold bars, lab ware etc. in any condition, good or broken.
Keep in mind there are several reasons why they pay more cash for gold. They never deal with a middle man and don't have the overhead costs of jewelry stores or pawn shops. When you see a gold buyer or jewelry buyer advertising in the mass media - those costs are in the thousands of dollars. Who is paying for that? You are - in lower payouts for your gold and or silver. Visit them today.
697 N Semoran Blvd
Orlando, FL 32807
Orlando Coin Exchange
Orlando Coin Exchange is a family owned and operated business. They have been numismatists for over 20 years and are well respected throughout the numismatic community. With decades of experience, Orlando Coin Exchange has provided thousands of customers throughout central Florida and the world with the trust, knowledge, and stability that is seldom seen in the modern business world.
OCE has seen tremendous growth since its inception due to its integrity, knowledge, and great pricing. However in 2017, due to the company's tremendous growth and popularity, OCE felt it was starting to lose the personalized service and family atmosphere that its customers relied on for so many years. After much debate, OCE decided that due to the high volume of customers it could no longer provide the quality of service that customers deserve and a change needed to be made. In the summer of 2017, OCE decided to change from walk-ins to appointment only. Patrons of Orlando Coin Exchange can again enjoy the efficient, private, personalized, and family friendly atmosphere that OCE was built upon.
6301 Orange Ave
Orlando, FL 32809
Orlando Jewelry Buyers
Orlando Jewelry Buyers is made up of expert diamond, coin, and designer watch buyers. They pay cash for your valuables same-day, and cater to their clients' needs with pride, whether they are selling designer jewelry or scrap silver. In order to better serve their customers, they have three convenient Central Florida locations. You can call 24/7, they respond to emails promptly, and are even open 7 days a week!
4900 S Kirkman Rd
Orlando, FL 32811
370 W Fairbanks Ave
Winter Park, FL 32789
4583 Saint Johns Pkwy
Sanford, FL 32771
Godfather Pawn Jewelry & Gun
Godfather Pawn is a locally owned chain of of pawn shops in Orlando, Florida. Marc Nicosia and his father Ross founded Godfather Pawn in 2008 with the flagship store opening on Orange Blossom Trail. With great customer service, and support from the local community, they opened up a second location on East Colonial near the 417/Greenway Expressway. Godfather Pawn employs the local community and is exploring options for additional growth.
9421 South Orange Blossom Trail
Orlando, FL 32837
8519 East Colonial Drive
Orlando, FL 32817
5520 East Colonial Drive
Orlando, FL 32807
420 N Cocoa Blvd
Cocoa, FL 32922
Park Avenue Gold Exchange
If you're in Kissimmee, Altamonte Springs, Sanford, Maitland, Dr. Phillips… Anywhere in the Orlando Area! The short drive to Winter Park will be worth it for the money you'll save!
If you're in or around Winter Park, FL, and you're looking to sell gold you've got that is old, unwanted, or even broken, then without a doubt Park Avenue Gold Exchange is a far better option than pawnshops or jewelry stores. They offer private and discreet office appointments during which your gold will be valued right in front of you, you'll be paid immediately, and you'll walk out feeling confident that you've received the best price because their superior testing technology will tell you exactly what you're selling and their staff will help you to understand exactly what it is worth.
157 E New England Ave #202
Winter Park, FL 32789
Be sure to check out these coin shops next time you're in Orlando. Please contact us if you know of other coin shops that would like to be listed.