Beautifully Made Coins From Australia's Prestigious Perth Mint...
Investors around the world have recognized the value of Australian silver coins for over a century and a half. Since the discovery of gold in Australia, accumulating these coveted coins have become a way to preserve wealth and build financial security.
Discover more about the history and investment value of buying, saving, and selling Australian coins…
The First Australian Coins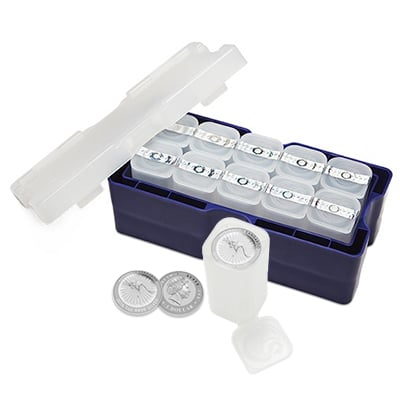 The first colony in Australia, New South Wales, was founded in 1788. For years, Australia did not have its own currency. During the earliest days, commodities such as grain were used instead of a coin.
Later, Australia depended on coins from other countries. Spanish dollars were cut into segments and referred to as pieces of eight, sixpences, and shillings. By 1791, Governor Phillip of New South Wales decided the value of a Spanish dollar was five shillings. A decade later, various coins were defined as legal tender including the guinea, rupee, pagoda, English schilling, Dutch guilder, and a one-ounce copper coin, which was worth 2 pence. There were also George II penny coins, referred to as Cartwheel pennies, which were valued at one cent.
In 1812, Governor Lachlan Macquarie purchased a large number of Spanish dollar coins. He was concerned these coins would be exported out of New South Wales. To claim them, he had holes cut in the center of the coins. These oddly designed coins were called Holey dollars, with a value of five schillings.
The piece taken from the middle was referred to as the Dump, with a value of about 15 pence. In 1813, both were declared legal currencies. In 1814, they went into circulation as the first Australian coins. In 1829, the Holey dollar ceased to be legal tender because British currency became the official currency of the colonies in 1825.
The Gold Rush
Everything changed when prospectors struck gold in Australia. At the onset of the Australian gold rush in the 1850s, unofficial gold coins were used. A shortage of coins also meant traders' tokens were used as currency. The population started to boom and more coins were needed. After a request to make them in Adelaide was declined, Aussies were ready for a mint of their own to start circulating mint silver and gold coins.
Shortly thereafter, a branch of the Royal Mint was established. In 1855, the Royal Mint opened in Sydney. By 1872, the now-defunct Melbourne branch was established. Right before the turn of the century, in 1899, the Perth branch was opened.
The Royal Mint branches in Australia were focused on refining gold into pure gold bullion, gold bars, and Imperial gold coins. The original gold coin design was developed between 1855 and 1870. Coins featured "Sydney Mint, Australia, One Sovereign" on one side and Queen Victoria on the other. The coin was also issued in a half-sovereign version. By 1870, coins of British design were minted.
Adding a Pound and More
Aussies used British coins until 1910. Then Australian silver coins were introduced, including sixpences, threepences, florins, and schillings. The coins featured a portrait of King Edward VII. Within a year, the penny and halfpenny were introduced. By 1931, gold sovereigns were no longer minted in Australia. In 1937 and 1938, a coin representing five schillings was minted. This was the pre-decimal period in Australia. Historic gold coins are very popular among investors and they are offered from various countries, including Australia.
The pound was replaced by the dollar in 1966, which officially initiated the decimal process in Australia. Coins were issued in values of 1, 2, 5, 10, 20, and 50 cents. A one-dollar coin was produced in 1984, with two-dollar coins made just four years later. By 1990, Australia's mints discontinued one and two-cent coins, as the bronze used to make them cost more to produce than their actual value.
Australian Appearances and the Dollar
The current one-dollar Australian coin (AUD) was first issued in 1984 to replace the one-dollar note that was in circulation at that time. Over the years, the obverse has featured three different portrait designs of Queen Elizabeth II. The reverse has an image of five kangaroos designed by Stuart Devlin. The diameter of the dollar coin is 25 mm. All the official coinage in Australia now features a majestic effigy of Queen Elizabeth II, which Ian Rank-Broadley designed. Coins include 50 cents, 20 cents, 10 cents, and 5 cents, which are referred to as silver. They are made from copper and nickel.
Originally, the 50-cent coin was circular and made from silver and copper. To avoid confusion, it was changed to a 12-sided shape in 1969. Since that time, it has been issued in commemorative and standard designs. The belief that the round versions are valuable is false. They are typically traded today for their bullion value.
Additionally, Australia is known for minting commemorative coins that are also legal tender. Other collectible coins include gold two hundred dollar coins, as well as nugget coins in ounces, kilograms, and fractions, in both gold and platinum.
Australian Coins as Investments
Rare silver and gold investment coins from Australia are renowned for being some of the highest quality precious metals available today and among the most popular gold coins, competing against the American Eagle coin and Canadian Maple Leaf. Wise investors opt for 99.99 pure gold coins. These include the Australian Lunar Gold Series II and the Australian Kangaroo Gold Series.
Silver coins include the Kookaburra Silver Coin Series, the Koala Silver Coin, the Lunar Silver Coin Series II, and the newly released Silver Kangaroo. The current platinum bullion coin features the breathtakingly beautiful image of a platypus. Often the Blue Sheet is used to determine the value of Australian coins. It ensures buyers and sellers have proof of a coin's worth to get a fair price.
Shopping for items such as Australian coins and gold is simple. Investors can browse online at their leisure and make educated choices about what to purchase. Buying precious metals from Australia can be both exciting and profitable.