Money Metals is the top-ranked national dealer that both buys and sells precious metals. If you sell your gold to a local dealer near you, you will generally get paid less for your metals as compared to doing your transaction with Money Metals. Learn more about selling to us here.
---
Purchasing (or Selling) Gold and Silver in Phoenix, AZ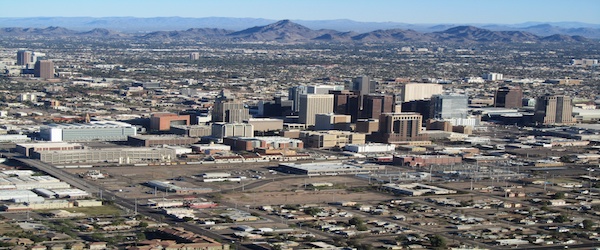 About Phoenix, AZ
Phoenix is both the capital of Arizona and the most populous city in the state with a population of more than 1.6 million Arizonans. With such a large population, Phoenix ranks as the most populated state capital in the country. The area of Phoenix has been occupied for thousands of years by Native Americans.
Local Gold and Silver in Phoenix, AZ
The following are dealers in the Phoenix, AZ area. DISCLAIMER: Money Metals Exchange does not vet or endorse any other dealers, so if you decide to patronize any of the following establishments, be sure to do your own due dilligence.
Phoenix Coin Shop
Phoenix Coin Shop has one of the largest collection of coins in Arizona and will purchase any amount of silver, platinum, and gold. Phoenix Coin Shop has years of experience and as a result they are able to accurately appraise your items.
15030 N Tatum Blvd #150
Phoenix, AZ 85032
The Coin Gallery
For years, The Coin Gallery has provided bullion and coin to the Phoenix area. Tim Forsyth, Coin Gallery's senior numismatist, has over 20 years of full-time experience.
4224 W Dunlap Ave
Phoenix, AZ 85051
C & C Coin & Stamp
Since 1992 C & C Coin & Stamp has been a part of the Phoenix, AZ community, providing buying, selling, and appraisal services for coins and other valuables. With over 100 years of collective experience, the staff at C & C Coin & Stamp can help you make an informed decision.