For the portion of your precious metals stash that you intend to keep locked away for long-term wealth preservation, we recommend low-premium bullion bars and 1-ounce rounds. They are the most practical and cost-effective ways of investing in physical gold and silver.
But what about the bullion that you want to be able to use in emergencies, for barter and trade, or gift giving?
In these and other situations, smaller-sized units of metal may be more practical. And they are becoming quite popular as the economy shows signs of unraveling.
Even though small gold and silver coins have been getting serious traction with the public recently, the notion of fractional coins goes back centuries to the time when the Spanish real (ree-AHL, or coin of the realm) would literally be cut into "pieces of eight" to enable smaller transactions. Other ways to invest in fractional bullion, would be popular gold and silver one-ounce bars. Or you have the option to purchase something even smaller.
Should I Buy Fractional Gold Coins?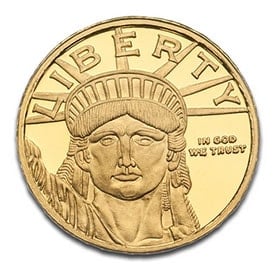 Full-ounce gold bullion coins are great for storing significant amounts of wealth and potentially for purchasing big-ticket items, but they're not so useful for smaller transactions. That's where smaller gold coins/rounds come in handy for accumulating a gold barter kit.
They have several other uses as well. For example, it's much easier for folks on a limited budget to accumulate gold if they don't have to spring for a full ounce at a time. That's why 1/10 oz gold is a key part of our monthly savings plan.
Meanwhile, many seasoned travelers carry 1/10 oz gold coins with them separately from their wallets for security wherever they go. Gold is universally recognized and traded around the world, and tenth-ouncers are easy to conceal within a garment or even a shoe.
As gold prices rise, fractional-sized gold bullion products will become more widely sought after by the public. A full ounce will simply become too expensive for a growing number of buyers who want to own gold. Last spring, the dysfunctional U.S. Mint temporarily suspended sales of 1/10 oz Gold Eagles after being overwhelmed by demand. If it happens again, premiums on small-denomination gold bullion for sale could surge due to scarcity. Owning tenth-ouncers makes it easier to give the gift of gold to more people. There's nothing like pure gold to mark a special occasion for special people in your life. Some of our fractional gold products come in protective plastic capsules (or if they do not, they can be added to your order).
Right now our lowest-premium tenth-ounce gold product is our exclusive .9999 pure (24 karat) Lady Liberty round at less than $151 each. We also carry fractional-sized American Eagles. You can even buy gold gram bars, which are less than $52 each right now!
Fractional Silver Bullion
For most everyday barter and trade, silver is the best form of hard money to have. In addition to the familiar one-ounce bullion coins, a well-diversified silver barter kit contains 1/2 oz and 1/10 oz rounds along with 90% silver pre 65 quarters, dimes, and half-dollars, (so-called "junk" silver).
Although junk silver is widely recognized among people who deal in silver or receive it as payment, it may not be by laymen. Moreover, old "change" may be under-appreciated by people who aren't involved in hard money. That's where freshly minted pure silver bullion fractional rounds may be useful – especially when you want to send a message of special appreciation in the form of a tip or reward.
Copper Bullion Investing
Rounding out a fully diversified barter kit is copper bullion, including one-ounce rounds and the most basic unit of value – the penny.
Money Metals Exchange's exclusive single-ounce copper rounds feature the same iconic "Don't Tread on Me" design that appears on our popular one-ounce silver rounds. But because of their minting costs in proportion to their metal value, copper rounds are not nearly as good a value as old copper pennies...
We offer Lincoln pennies minted before 1983 that contain 95% copper at literally the melt value of copper. In 1982, the Mint started phasing out copper pennies and began producing pennies made primarily of zinc to cut costs. By 1983, all newly minted pennies contained 97.5% zinc, with only a thin layer of copper coating. Old copper pennies currently have an intrinsic metal value of about double their face value – and they could be worth several times face value in the years ahead if copper prices get moving to the upside.
If you haven't yet built a thoroughly diversified barter and emergency-use metals stash that includes multiple forms and sizes of copper, silver, and gold bullion, like gold bars, then doing so should be a priority. After all, one of the principal reasons to own hard money is to be able to use it as transactional money in a financial crisis or an unexpected crisis that hits your personal finances.

About the Author:
Clint Siegner is a Director at Money Metals Exchange, a precious metals dealer recently named "Best in the USA" by an independent global ratings group. A graduate of Linfield College in Oregon, Siegner puts his experience in business management along with his passion for personal liberty, limited government, and honest money into the development of Money Metals' brand and reach. This includes writing extensively on the bullion markets and their intersection with policy and world affairs.